The regualr visits to the shop during her childhood made her build an interest in art. She defined the place as a 'Pandora's Box' due to the 'sense of discovery and how one never knows what they may find'. She adds, "The shop has always fascinated me and encouraged me to spark off my collection".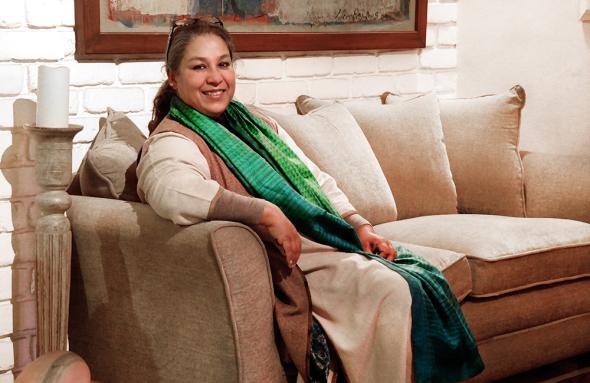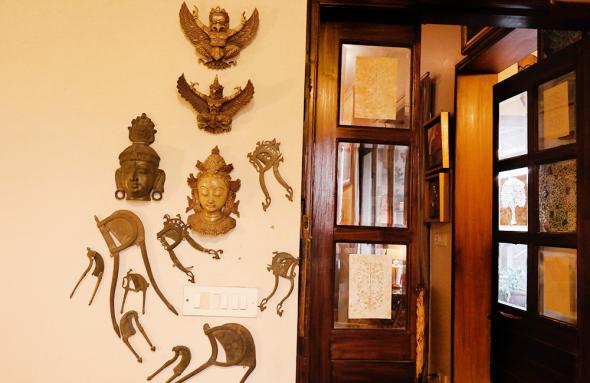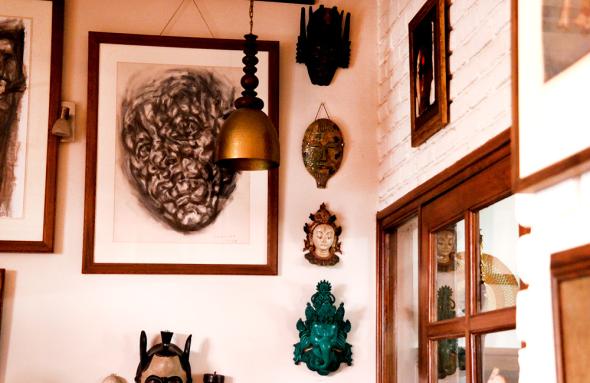 "Art i have always had a great love for, I started collecting from Dhoomimal Art Gallery", situated in Connaught Place it is one of the oldest art gallery in India. Collecting art for the past 25 years the first few artifacts she ever bought were candlestands made of cast iron from 'India Arts Palace'. A part of the wall displayed the amassed collection of masks from different countries, Kathmandu, Indonesia, Africa, Thailand and Mexico. Owning a set of masks she bought from "Green Point Flea Market' in Cape Town, South Africa, where she and her family lived for a year she describes the place as 'the hub of handicrafts'. A beautiful sculpture is set on the side of the room, made by Mukul Panwar from Garhi Lalit Akademi Art Studio.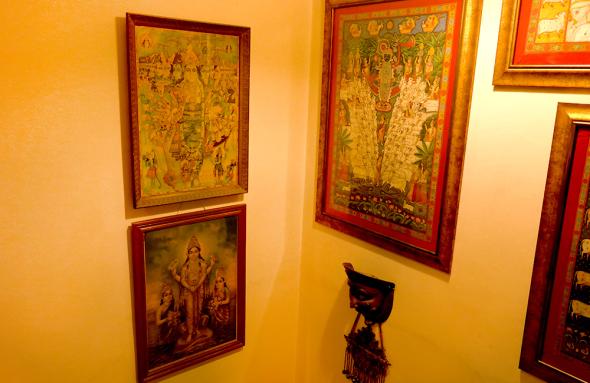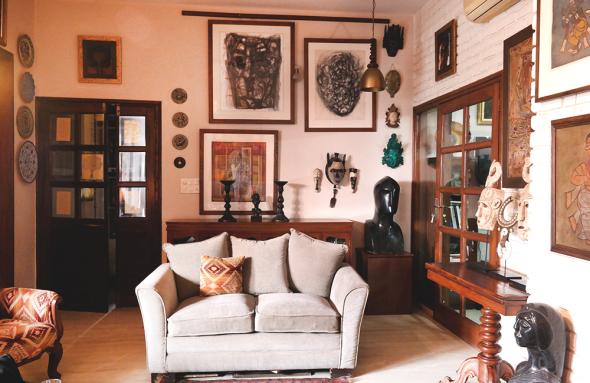 "When we built this house we had the option of extending but the outside is so much a part of the way we live", says Tandon. Situated in the city of Noida the spacious balcony of the house is a convenient place for entertaining, set with a fireplace for winter and a charming rustic bar counter. Accessorising her garden with tea light holders placed on a table, a Moroccan lamp from Sharjah hanging from the ceiling and over 12 different varieties of champa plant, bouganvillas and water hyacinth grown in a clay urli during summers, the place gave a stunning and welcoming look. She adds , "Home is home, whether it be the interior or the exterior".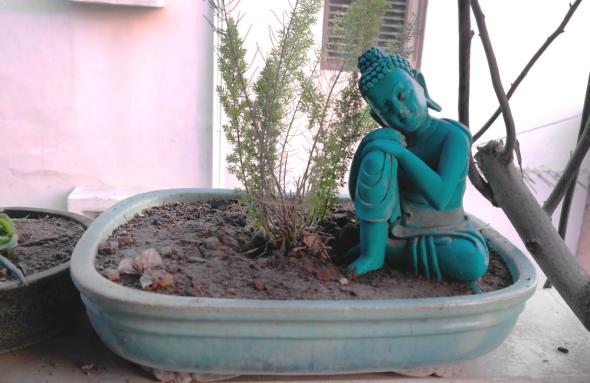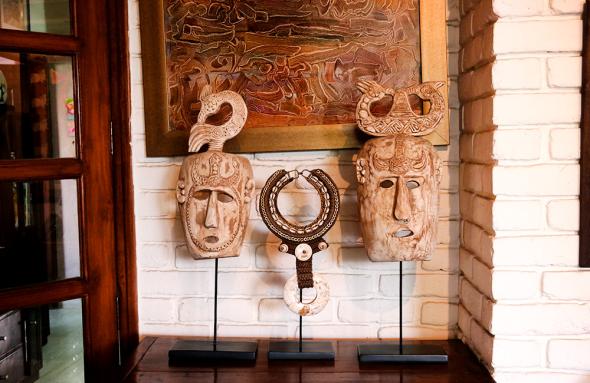 On stepping inside the living room one is instantly attracted to the paintings on the wall, the cluster of these artworks turn the living room into a home. Each painting expresses the personality of the owner and her keen interest on paintings and at times can 'overspend her budget' on them. Starting out as a lover of figurative art and portraits she later moved on to buy more of abstract art. "I think over a period of time your taste do change, you revolve, develop, you've seen more and realize the kind you like", says Tandon. She feels 'a sort of maturity in the perception of creativity when gravitating towards abstract art' because abstract art is more 'meditative and heartfelt'. The house filled with a variety of reknowned artists such as Jamini Roy and his works of giving Indian art an identity, K.S.Kulkarni, Sachita Nagdev from Bhopal and Gade from the 'Bombay Progressive Artists' Group'.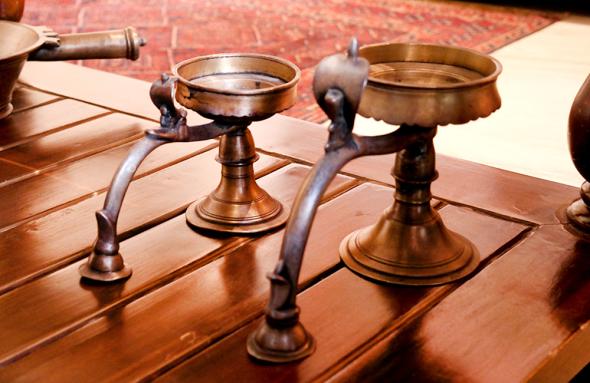 The bed in the master bedroom defines grand with it's unique style of headboard which was originally a brass door owned by her mother, each side gifted to her and her sister on both of their wedding day. The house is further decorated with handicrafts creating a reminiscent of a traditional home. Displayed on the wall are a set of plates placed neatly, one in particular known as Meenakari from Iran with its brilliant coloring and intricate designs gave a dramatic look to the plain wall. A cast iron railing with a marvelous pattern is cleverly converted into the leg of a coffee table and a side desk. One distinct table placed near the wall could be folded from both its side, a black colored card desk in original from Chor Bazaar in Dehradun, the desk was later polished revealing its 80 year old rare shisham wood.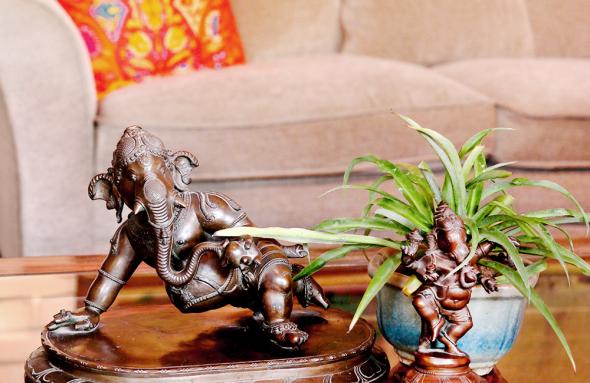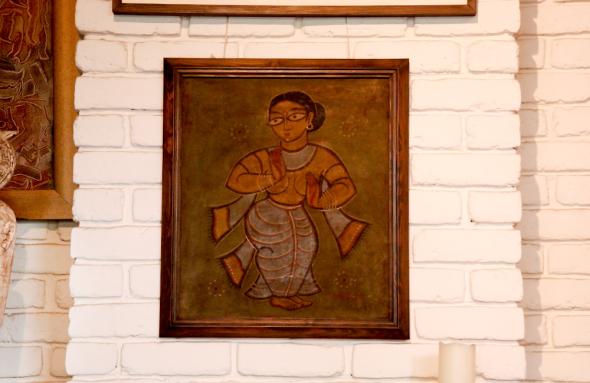 She personalises her home by buying things she could 'look forward to' and later 'grow and appreciate by enjoying every bit of it'. "When building a house you must consider it in layers then only does it become a home", adds Tandon describing the first two layers as the basic and the last layer in which the house 'reflects your personality'. She adds, "A house becomes a home over the years and it grows with you".