If you plan to invite your family or friends for a festival get-together, now is the time to start prepping for it. There is no need to splurge a lot when it comes to getting your home Teej festival ready.Small touches here and there can help you get your home ready for the guests, and the celebration can become more enjoyable and pleasant. Let us check out some simple to implement décor ideas that help you get your home ready for the hartalika teej festival.
Amazing Decor Ideas for Hariyali Teej
When celebrating hartalika teej at home, you can decide on a theme and decorate your home accordingly. It is a festival of women, and this festival occurs during the rainy season when Mother Nature is in its full bloom. Green can be the best colour theme for the get-together and décor. As a host, you can ask your guests to come in verdant attire and complete their ensemble with lovely accessories like silver jewellery. Here are some home décor tips that can help you give a lovely look to your humble abode.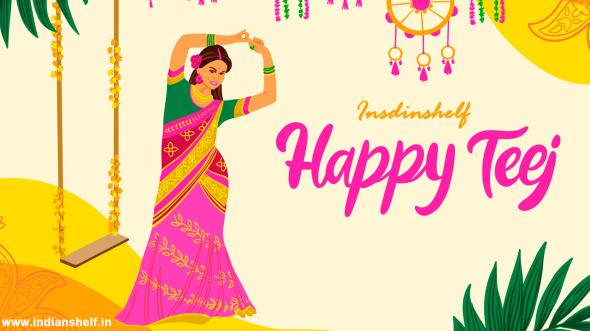 1. Decorate Your Pooja Area
Since you will be sitting in your Pooja or Prayer room for Katha and offering your prayers to the divine deity, begin your decoration activities from this area. Light up oil lamps in the room so that the whole area gets bathed in subtle lighting. Use marigold flowers to hang on the doors and walls to impart a festive look. For the uninitiated, the festival of Teej signifies the indomitable spirit and courage of Goddess Parvati, who took one hundred and eight births to get Lord Shiva married to her. Thus, this festival is for unmarried women looking for a groom like Lord Shiva and married women wishing for the long life of their spouses.
2. Swinging on the Jhulas
The celebration of the Teej festival is incomplete without swinging on the jhullas. It is the best time to check your jhulla if it is in pristine condition. If it needs a swing chain change, now is the time to do it. It is the highlight of the festival, and women love taking high swings in the air on this day. It is one day when they can forget about stress, worries, and responsibilities and focus on enjoying themselves. There is no harm to be a child and have loads of fun with your friends. They get decked up in their fineries, apply henna on their palms, and look their prettiest to mark this special occasion.
3. Use Bangles for Decoration
Bangles is one of the most important shringar or makeup accessories for women of all ages. Every woman has a lot of used and unused bangles lying in her home. Why not use them to decorate your home for the Teej festival? Tie them using a satin ribbon and hang them from the windows. It will give an elegant and opulent look to your windows. You can also criss-cross them on the roof, giving your ceiling a decked-up look.
4. Soft and Gentle Lighting
When gray coloured clouds are heavy with droplets ready to fall on the earth to quench its earth, it is time to light up your home in soft and gentle lights. It adds charm and warmth to your home. Use brass diyas and place them in every nook and corner of your home. When lighted up, it will through subtle light all around bathing your home in gentle overtones. It will also add a touch of festivity and celebrations to your home. When light from this diyas fell on your colourful furnishings, the whole ambiance will look lovely and charming.
You can read also:
- Thali Decoration (Latest Of 2020): 13 Thali Decoration Ideas For Daily Poojas
- Ganpati decorations ideas | Eco-friendly and affordable Ganpati decorations ideas | Indianshelf
- Ganpati Decoration Ideas With Thermocol | Ganpati Decoration Ideas 2020 | Indianshelf.in
5. Flowers everywhere
In India, every festival is made all the more spectacular and exciting with rangolis at the front entrance or in the living area. Use fresh and seasonal flowers to create lovely rangoli decorations that make your home look dressy and ready to invite guests to enjoy the festival together. You can also use bronze urli to float lighted diyas and fresh flower petals in water. It will also add a lot of charm to your place. Choose urlis in amazing designs, sizes, and styles to bathe your area in warm light.
6. Kite Decorations
If you have kept old kites handly after the last Makar Sakranti festival, now is the time to bring them out and use them for your Teej festival decor. If you do not have kites handy, no problems, you can use vibrantly coloured chart papers to make kites and hang them n your windows or cover the walls. It adds a lot of colour and cheer to your home and makes it festival-ready. If you are looking for something different, you can always make origami birds using colourful chart papers and stick them to the walls. It will surely help your space stand out and make it look truly spectacular. All these decoration ideas are simple to use and follow. It is amazing to see how these simple touches can make any occasion more exciting. If it is not raining, you can also keep kite-flying competitions for your guests to enjoy and have loads of fun.
7. Use flowy dupattas to deck up your home
Another idea that works well for your teej festival decoration is colorful dupattas that add color and zing to your home. Tie these dupattas and hang them from above. It will make your home walls look captivating and elegant. Overlap the ends of dupattas to create a wavy pattern over the windows or walls. It is also a great idea to dress up these areas of your home.
8. Teej Festival Favours
Just like wedding favours, you can create Teej festival favours to wish happy Teej to your guests. You can make lovely potlis and try small gifts like silver anklets, bracelets, silver earrings, and more to these potlis. Keep them on the console table and make it a center of attraction for the guests. Add these goodies in net potlis so there is a curiosity factor for the guests who can be left guessing about what is there in the potlis. It can also be used as a décor item. Place them on a huge brass plate and keep them on a center table or a side table.
9. Vibrantly Coloured Umbrellas as Décor Object
Use colourful umbrellas to decorate your home. It is perfectly suitable from the weather point of view and adds joie de vivre to the ambiance. Use them to hang from the ceilings or decorate the stairs. You can do a lot more with this décor idea. Unleash your imagination and creativity, and you will be sorted. It is the perfect way to make your occasion brighter and vibrant.
Teej is a festival of colours, joy, excitement, fun, and love. Make it more special by decorating your home and getting it Teej festival-ready using your creative insight. Wish your friends and family Happy Teej Festival with your lovely touches that make the ambiance perfect for celebrations.