7 Janmashtami decoration ideas to celebrate the special day of Laddu Gopal
Posted By: Arpita Mathur
05 February, 2022
You can use amazing Janmashtami decoration ideas to welcome the Lord to your home, depending on your budget. Since the Puja starts at midnight, you need to ensure that your decor is suited for the occasion. Here are a few ideas to help you prep for the great day -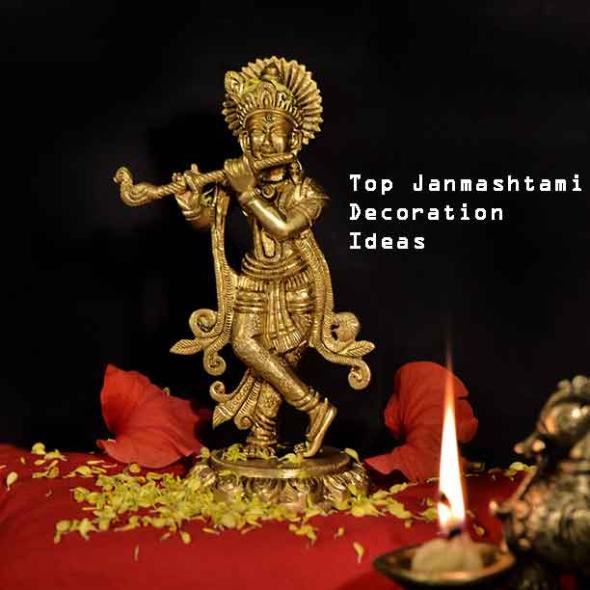 Krishna was the eighth Avatar of Lord Vishnu and is revered for his playful antics and leadership qualities. He is also regarded as one of the most powerful incarnations of the great Trinity. His birth took place in Mathura, where His maternal uncle Kansa kept His mother in prison to kill off all the offspring. However, by divine intervention, Lord Krishna was safely delivered to Nanda and Yashoda, who raised Him as his own. This festival falls in July/August on the eighth day of Krishna Paksha as per the Hindu calendar.
Decorating the cradle of Lord Krishna is a great experience. Devotees put a lot of effort into decorating the Krishna idol and cradle. Using affordable accessories and decor elements, one can easily create stunning effects for Janmashtami celebrations at home.
You can use amazing Janmashtami decoration ideas to welcome the Lord to your home, depending on your budget. Since the Puja starts at midnight, you need to ensure that your decor is suited for the occasion. Here are a few ideas to help you prep for the great day -
Top Janmashtami decoration ideas
1. Palna decoration ideas
Laddu Gopal Avatar is worshipped on Janamashtami and needs to be treated with great clothes, singhasana, and accessories. Hence, on the day, baby Krishna's idol is placed on a palna (cradle), and this is then rocked throughout the Puja to recreate the joyful occasion. On the other hand, the crawling form of the Krishna statue must be kept for Puja.
Fresh flowers
An ideal way to decorate the palna/jhula is to use fresh flowers. You can use a generous amount of marigolds to decorate the same. Once done, place two pillows and hang tassels to achieve the royal look. You can also opt for LED or rice lights to create a stunning palna decor on a budget.
Royal decor
To create a royal look, place velvet covering on the palna surface. Use lace or gota to decorate the same. Remember to attach a beautiful chain or a garland to rock the cradle during the Puja. To complete this look, use flowers or Rangoli to decorate the area around the cradle.
Sandalwood palna
If you have a sufficient budget, use a sandalwood palna or place sandalwood logs around the cradle. Then use peacock feathers around the Laddu Gopal statue to create the perfect look. You can also create a small garland from flowers or jewels to place around Krishna's neck. Use a small matki and decorate it with lace or glitter to complete the decor.
Icecream stick Jhula
To give the effect of the perfect Jhula, use ice cream sticks. Start by building the base of the Jhula using the sticks and then create a small Jhula using either sticks or reusing a small diya.
You can read also:
- New & Innovative Diwali Decoration Ideas For Homes | Indianshelf.in
- Pot Decoration Ideas | Top 9 Pot Decoration Ideas That Rock Your Home In Super Style
2. Recreate Vrindavan at your home
Devotees take substantial efforts to ensure that they create the best Janmashtami decor. One of the amazing ideas is to opt for recreating the birth and life of Shri Krishna at home. Although you can easily get these designed by professionals, nothing can beat the fun of creating one from scratch. You can use bells, ribbons, conch shells, etc., to amp up your home decor during the festivities. The idea is to use the materials that were prevalent during the time to get an authentic effect.
Kanha birth
One of the amazing Janmashtami decoration ideas is to create an authentic Vrindavan tableau. Use a thermocol or wooden base and then use artificial grass, sand, and cardboard huts to decorate the same. In the center, place the cardboard cradle and decorate it with stones. Use clay to craft figurines of Yashoda and Nandlala, and other villagers. Choose a selection of bhajans to generate religious fervour.
Colourful matkis
Use a large size Krishna statue along with earthen pots filled with butter to create the perfect decor. Use LED lights to create a silhouette of Vrindavan. Alternatively, you can use plants and leaves to create the perfect-looking decor. Create a wall hanging using different leaves and then place potted plants next to the idol.
Feather delight
Use peacock feathers to amp up your decor during the festival. You can also buy a Mor Pankh crown for Laddu Gopal. If you are using a larger statue of Krishna, use LED lights and feathers to create a stunning background. You can also use floral garlands, ribbons, and paper buntings along with Mor Pankh to achieve a similar effect.
3. Janamashtami staples
Apart from the Janmashtami decoration ideas, it would help if you used the following to attain the best results -
Prasad arrangements
You can cook delicacies like Kheer, Halwa, Panchamrit, etc., to offer as Prasad during the day. Arrange these in earthen crockery or silverware and place them next to your Krishna statue. Offer this Prasad to anyone who visits your home or shares your blessings with less fortunate ones.
Akhand Jyoti
An oil lamp is essential to Hindu culture. Thus, you need to light an oil lamp and ensure that the same stays on throughout the festival. Use incense sticks to spread a lovely fragrance.
Krishna clothes and accessories
The clothes for Lord Krishna must be made from the finest quality materials. Choose bright colours for the purpose and decorate using gold or silver embellishments. The accessories like flute and crown must also be chosen with great care. You can use stones, pearls, etc., to decorate the area.
Chowki
For a large size Krishna statue, use chowki to host the statue. Embellish it using garlands and stones. Once done, place LED lights around to achieve the perfect result. You can also use vivid patterns or colours, Rangoli, and buntings to brighten up your Janamashtmi celebrations.
Dahi Handi
To top up your decor this festival season, use a Dahi Handi on top of the Krishna statue. You can buy a small Handi or use a small earthen pot to create the perfect Handi. Use golden lace, brocade, or a mirror to brighten the area. You can also use several small Handis along with cotton to create traditional Dahi Handi.
If you use these simple tips, you will achieve the best decor ideas that create a divine atmosphere at your home. Taking up these activities with your children will help them understand the rich Indian culture and traditions.